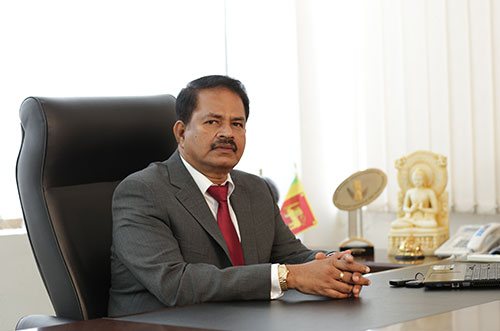 CHAIRMAN'S MESSAGE
"Occupying the Elcardo chairmen's office equipped with all the luxurious modern facilities, I am very humble to review my memories back to past decades since early 1980s where I ventured my carrier as a technical craftsman in the industrial arena"
From my young age it was and still is my ambition and stern vision that whatever invention I am to be involved in the industrial arena, it should give major priority for local manufactures. Thereby I became the pioneer industrialist who fabricated crash bars for automobile jeeps and subsequently, comprehensive exhaust line and its accessories to all types of automobile vehicles. Elcardo became the first ever company in Asia to manufacture the exhaust line and muffler barrels with the use of stainless steel in order to provide a long life to the exhaust line.
From there onwards, I have come a long way with overcoming difficulties and competitive tasks to achieve the present status where the Elcardo name is mentioned in a cynosure place in the roller door industry, successively holding the major share as the market leader in the industry.
The historical milestone of the company shows both success and failures, through which all my staff members both past and present have steadfastly held my hand and guided me along to make our ventures successful. Also, not forgetting the valuable customers who gather around us with appreciation in regard to the quality and the high standard of our products and services, gave us more courage and confidence to move into new ventures from time to time.
So I make this opportunity to extend my sincere and humble gratitude to both my colleagues and clients for making Elcardo shine in the industry and now on I look forward to further new innovations to make our products more valuable to our existing and potential customers.
It is indeed a long journey that has come along over 3 decades to achieve the present status of Elcardo. So this is just a brief review on Elcardo inventions from its inceptions. It was in early 1980's an energetic youngster named Athula Rohan Weerarathne, the present Chairman of Elcardo group, with his moderate thinking took the first step to research how he could introduce, locally manufactured items and his first innovation to the local market was the first ever locally made 'crash bar' for auto mobile jeeps. Subsequently he moved on to producing Auto mobile exhaust line accessories and he was the pioneer to manufacture exhaust line accessories using stainless steel. In 1985, Elcardo legally registered as a business industry and thereafter in no time the Elcardo name became very popular among the auto mobile users throughout the island. Elcardo launched a new product line in early 1990 by bringing down Exclusive Automobile Accessories (specifically made for 4 wheel driven luxury vehicles) from abroad resulting in Elcardo becoming the leading supplier of Automobile accessories at present day. Elcardo with its utmost dedication also succeeded in fabricating all types of Stainless Steel railings, display racks; many other structures for Building Constructions, Kitchen pantry cupboards and more Stainless Steel solutions required by star hotels, hospitals and private sector clients.
OUR ACHIEVEMENTS
With fabricating the first ever locally manufactured crash bar for automobile jeeps, we entered to the industrial business arena in early 1980s with a very small workshop in Ratmalana. Gradually in due time we have expanded our products range by introducing different items that are required in construction field and eventually have succeeded in building up our own factories that are equipped with the state of art machineries and show rooms in Capital cities Island wide by which we are able to give a better service to our valuable customers who are spread throughout the Island. Our factories are located in Ratmalana, Kandy, Kurunagala, Matara and Jaffna whilst there are show rooms spread out in Nawala with head office, Nugegoda, Ratmalana, Kandy, Kurunagala, Matara, Negambo and Jaffna. Further we have succeeded in expanding our products to the international market with our agent in Maldives and our showrooms in Chennai and Coimbatore, India.

During our carrier of industrial business we were the first ever Roller Door Company to be awarded with ISO 9001-2015 respectively nationally and internationally in recognition of the quality and the services that we have rendered to our valuable customers. Elcardo will prove their efficiency and capability in serving our nation with much more new innovations in years to come.
Manufacture Innovative, High Quality, and Efficient Products & Services through the fare identification of customer requirement to exceed their Needs & Expectations.
Create a working environment to help each employee to be a part of the team which strives towards excellence.
Continual improvement of Quality Management System to be in line with the requirement of ISO 9001:2015 International Standards.